Public Hospital Enterprise Queue Management System
Industry Domain : Hospital
The Enterprise Queue Management System comprises a self-registration kiosk, a registration terminal, and a service terminal to streamline the customer journey at every touchpoint. The self-registration kiosk enables users to obtain a queue number quickly by scanning their IDs or keying in their details. The registration terminal can be used if the kiosk is unavailable, and counter staff can assist patients with registration. The service terminal notifies customers about their turn through various mediums and supports various devices, ensuring exceptional customer experience. With transaction times reduced and crowding at counters prevented, Q'SOFT streamlines the customer journey, making it an ideal choice for healthcare delivery and other service-based industries.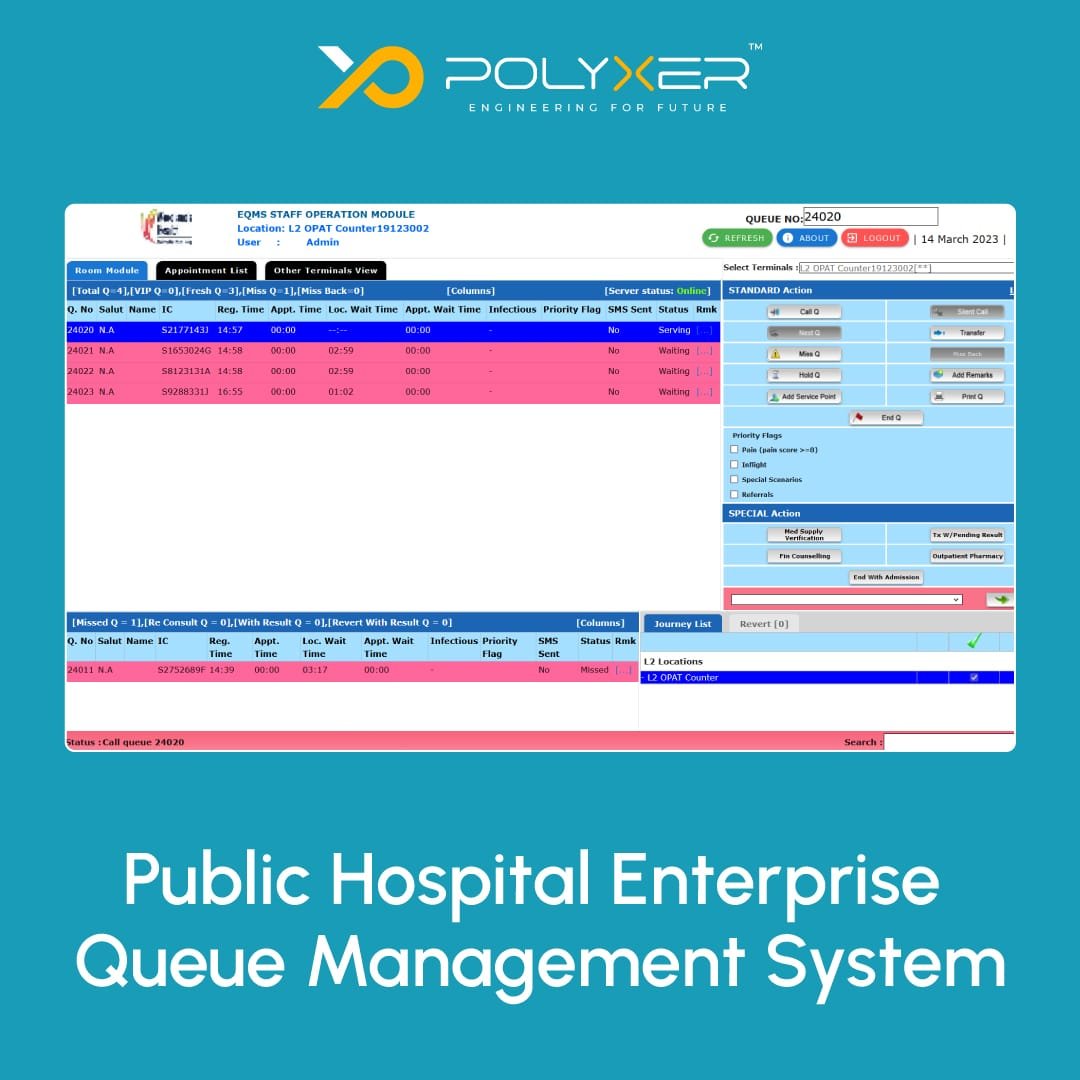 Our Singapore-based customer is a quality IT provider focusing on the development, marketing, and support of complete platforms for Enterprise IT Systems, Traffic Management Systems, and Integrated Security Management Systems. Public Hospital Enterprise Queue Management System is a web-based Queue generation and payment application.
"Public Hospital Enterprise Queue Management System is easy to use and very effective for Queue generation and maintain Patients services. I highly recommend Polyxer Systems to companies having concepts but don't know how to bring them to life."
- Company Director
Problem Statement
As one of Singapore's largest multi-disciplinary hospitals with more than 170 years of pioneering medical care and development, the hospital has 45 clinical and allied health departments, 16 specialist centers and is powered by more than 8,000 healthcare staff. A Queue Management System with a consistent workflow was thus necessary to manage a large number of patients daily.
There are several drawbacks of a conventional process for Queue and Patient Management:
Patients need to frequently call the Hospital staff for an appointment at their convenient time.
Patients need to travel and visit the hospital to book service and wait for a long physical queue for tokens.
Patients had to wait for their turn by standing in the queue for some time.
Meanwhile, the Hospital had to deliver them tokens to confirm their appointment.
Consumers waiting for their turn in the queue when managing them becomes the obligation of the Hospital.
Strict authorization record strategy.
Limited source of tracking the patients and the history of the services received by them.
Assistance-wise dispersion gets difficult to regulate physically.
Client ended up processing the tokens on a first come first basis almost always.
High cost of maintaining onsite support staff.
Lots of crowding at Hospital Counters.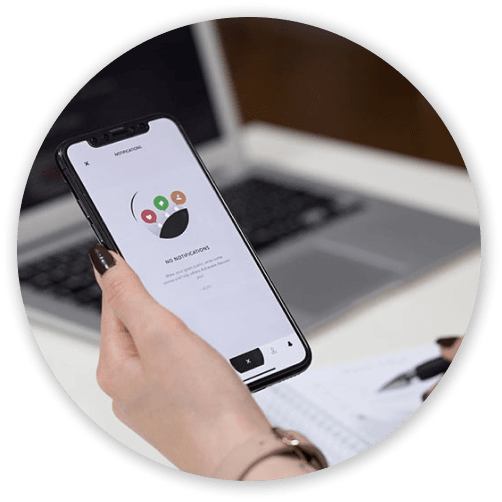 Solutions From Polyxer Systems
Commencing from establishing an end-to-end product development offshore team, starting from the concept building to finished product delivery to support, Polyxer Systems ascertained a compact performance squad.
Step 1

To understand the basic concept and the related crisis we were bound to figure out, our professional business analysts contact the clients.

Step 2

Assisted our customers with a 'go-to market' policy by establishing an optimum path to roll out the product at various hospital branches without disrupting the services.
Recommended a pretty decent technology package keeping an account of both the long and short-term purposes.
Developed a web portal that enables hospitals to maintain their patients with queue generation and payment from any location.
Mobile support to create an appointment without reaching to hospital and waiting in the queue.

Step 3

Suggested developing a web portal that supports the mobile platform, load balancing, and scalable architecture.
Designed and integrated the new responsive user interface.
Proposed to support Localization & Globalization.
Easy queue and service maintenance of the patients.
Self – payment kiosk allow flawless payments also followed by Note and coin management for Kiosks.
SMS service developed to notify patients of their appointments.
The application supports several electronic gadgets such as smartphones, HD TVs, buzzers, printers, tablets, and other touchscreen devices.
Reduction in IT Staff

Cloud-based Architecture

Faster Data Mining

Easy Customer Management
Dynamic Report
Zero requirements to engage private crew to supervise queue.

On the operational cost, the cut-down rate is 80% approx.

Real Time Management

Intelligent ways to interact with patients/Hospital.

Reduce the wait time and boost your customers' happiness level with smart queue management.

Dealing with the maximum number of customers is the duty of the executive.

Live Queue and Service updates are available by HD TV display.

Streamlines queue processes, improving operational efficiency and productivity.

Streamline walk-ins & appointments to enhance customer experience.

Appointment generation using web and mobile applications.

Improves service efficiency.
Polyxer Systems Capabilities
Consulting
Product conceptualization
IT strategy and governance
Startup
Development
Public Hospital Enterprise Queue Management System
Self – Registration Kiosk
Appointment Management
Queue Ticket Generation
Ticket Printing
SMS Solution
Payment Management
Reporting Module
Admin Module
Quality Engineering and Assurance
Test execution and reporting
QA automation
Performance test and load balancing